Profile/
We are Yukie Indian dance company SAMPATTI of odissi dance special members .

◆Message◆
Annual, appeared in Namaste India with annual schedule look forward to. This year, has arranged two songs. Please stay tuned!

◆contact information◆
SAMPATTI
Website URL: http://Sampatti.daa.jp
e-mail: sampatti_odissi@yahoo.co.jp



Profile/
Miyuki is the president of KANNAGI Traditional Indian Dance Institute. Studied "Bharatanatyam" under the master, "Padmashree " Adyar K. Lakshman, She also studied "Odissi"from Guru Mayadhar Raut, who is well-known as the great Guru of Gotipua-Style of "Odissi", and his daughter, Ms. Madhumita Raut in Delhi. After that, she has started organizing a Kannagi with her senior students. At the moment, Miyuki is teaching Bharatanatyam and Odissi in Tokyo,Japan.

◆Message◆
The season of Namaste India is coming again this year! We are looking forward to see you and enjoy the annual event together. We hope you enjoy the Odissi Dance of "the Raut Style" since very few dancers perform in this style in Japan!
◆contact information◆
Website URL:http://www.kannagi.com/



◆Message◆

◆contact information◆




Profile/
A highly talented performer with extensive experience in the use of movement, gesture and body language to portray a character, situation to an audience, usually to the accompaniment of music; interpreting the work of choreographers, sometimes requiring improvisation;remarkable background in a variety of genres: Indian Classical form ( Bharatnatyam ), Indian folk dances, Free style and Bollywood. Performing in Japan since 2011

◆Message◆
PERFORMANCE -: This year we are performing on Ganesha song (Indian Semi Classical ) and Kalbelia ( Indian Folk Dance ). The Mayukas have been collaborating with Japan Dance School and it has been great pleasure to with them. work

◆contact information◆
Name − Mayuri Naik
Phone No: 080 3350 2821
E-mail: mayuri_chaitanya123@yahoo.com


Profile/
This dance incorporates elements of the various folk dances based on jazzdance and ballt.
Bwitching belly dance. Classic hula put the respect for nature. Life full of vibrant African dance. Tnhe face and eyes, delicate movements of the limbs to express the beauty and strength of the universe and women of Indian dance. These were fused with jazzdance, and continues to establish their own view of the world.

◆Message◆
Namaste india festival are power places power plenty of!
Thanks to dance at this stage this year. This is 13 names in the middle grades,and high school students from second grade.5 adults. Is a team of 18 people. Is the best sincerely enjoy a nice moment together with!

◆contact information◆




Profile/
Nrithanjali Dance Troupe is the only group to perform Tamil folk dances such as PARAIATTAM, OYILATTAM, KARAGATTAM, KUMMI at various festivals and events mainly in Kanto area in Japan. The dances are taught by the Sakthi Center of Dindigul, Tamilnadu, and we collaborate with Tamil communities in Japan for festivals such as Pongal. Please join us to perform parai together.

◆contact information◆
NRITHYANJALI T.Kurokawa
Website URL: http://nrithyanjali.info/
E-mail: nadt.tokyo@gmail.com



Profile/
Ms. Mako Satomi has learned under the late Smt.Uma Sundaram Bharatanatyam's theories and skills at Chennai, India. She had performed in India and all over the Japan to appeal of Bharatanatyam. Recently she also tried new things "Kojiki"(Japan's oldest historical record) by Bharatanatyam, collaborated with Japanese Gagaku historical music ornaments. She learns under Smt. Neela Sukhanya Srinivasan and Smt. Shobana Bhalchandra now. She is supervisor of Plana Indian Classical Dance Study Group, and doing an instructor at Yomiuri Culture Center. She also teaches Bharatanatyam and Yoga at Toda and Warabi in Saitama.

◆Message◆
We "Plana" dance group is based on Toda city in Saitama pref. We'd like to inform you that we have a student stage performance on coming 10th October at Kawaguchi city. It is free of charge, please come and see it. Today we perform 2 songs. Alaripp and Thillana. ,Alarippu means flowering. It just looks like a Lotus bud blooming into a flower, the movement is spread little by little from eyes, neck, hands to the whole body. Danser's whole body is dedicated to Gods. Thillana means dance of joy, performed on closing the stage. We hope you will enjoy.
◆contact information◆
Plana Indian Classical Dance Study Group
Website URL: http://www.geocities.jp/planabarata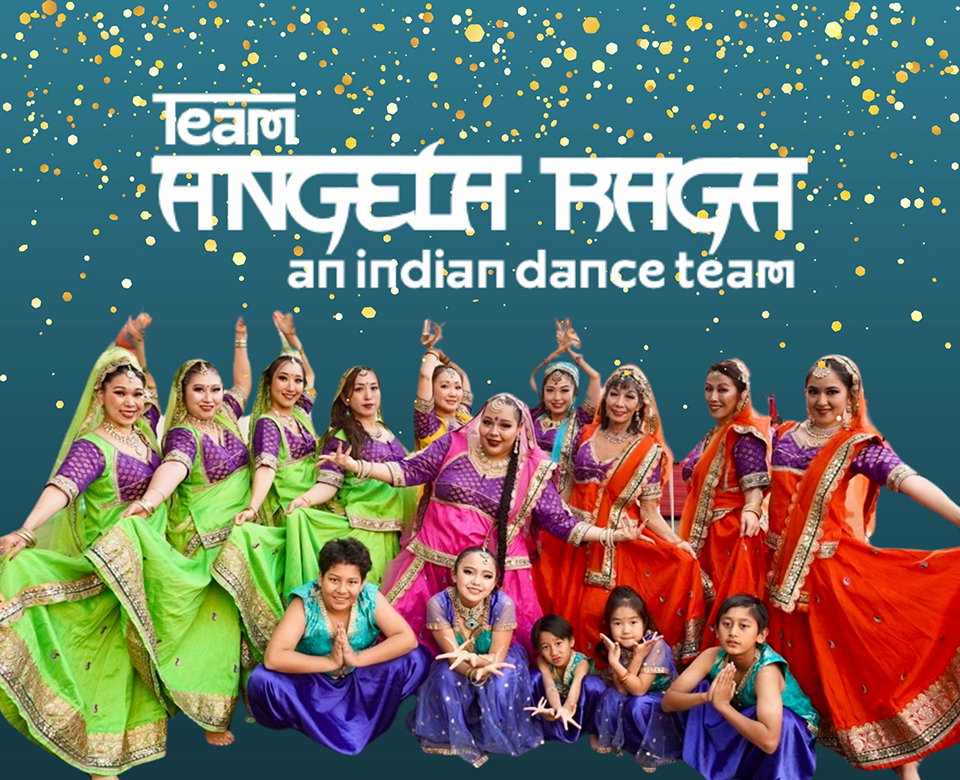 Profile/
Angela Raga studied Indian film dance and Bharatanatyam under Ms. Kyoko Nobi since age 8. Her powerful dance and rich expressions make Angela a sought-after performer for various events and dance shows. She leads the Bollywood dance team "Spicy Thumka", as well as holds Bollywood dance classes at five locations in Tokyo and Kanagawa. Angela will be joined by many of her students and present an exciting show again for this year's Namaste India.

◆Message◆
Namaste! Bollywood dancer, Angela Raga, here. I am so thrilled to perform Bollywood dance with my students on the stage in front of Namaste India audience again this year! We promise you an exciting show − don't miss it!!
◆contact information◆
Angela Raga
Phone: 080-3574-2611
Website: http://angelaraga.com
YouTube Channel: https://www.youtube.com/channel/UCiDHBrNxCRT9j_BzF6IqbpQ


Profile/
Bollywood Movie「Dance! Dance! Dance!」Heroine as Miss Japan Graduated from the Faculty of Literature at the Musashino Women's University. Start modern ballet at the age of two and a half, she has been performing as a main member in the Toho musicals featuring a famous actress Mao Daichi. As a goodwill ambassador of beauty, she paid a courtesy visit to the prime minister's official residence and embassies of many countries in Japan, and visited Australia as the representative of Miss Asia. In January 2008, she was invited to India by the consulate general of Japan in Mumbai and the executive committee of the Mumbai Festival and made an opening speech and performed a dance at the Mumbai Festival 2008 as a representative of Japan.
◆Message◆
Ladies and Gentreman,please welcome to our special Bollywood performance「Lisa Itakura&GIRLSBEE「BOLLYWOOD『NACHLO!』」 It is a great honor to be here and celebrate this great festival" Namaste INDIA 2016"all of you! Now,let's enjoy and dance together" NACHLO!"!
◆contact information◆
Lisa Itakura Official site : http://members2.jcom.home.ne.jp/lisaitakura/



Profile/
We are based on the Belly dance, a performance team to dance the various types of dance as well as Bollywood dance. We met in Bollywood dance, will know the dance to enjoy laughed heartily, it has become addicted. Events, Festivals, Parties, Restaurants show, Wedding party, until the party of kindergarten, we excitement in order to entertain you in any place!

◆Message◆
We know the joy of dance Bollywood dance, have to tell everyone is that so much fun! So, we will send you the three dance scene in the medley from several Bollywood movies. The stage for change in every song, please enjoy your stay with us!!

◆contact information◆
Harshavina
Name:AAYA
E-mail:harshavina.aaya@gmail.com
Phone:090-3432-8480